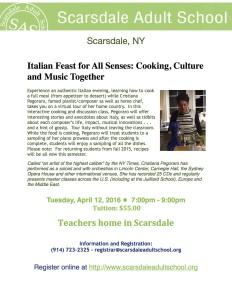 Italian Feast for All Senses: Cooking, Culture and Music Together
Experience an authentic Italian evening, learning how to cook a full meal (from appetizer to dessert) while Cristiana Pegoraro, famed pianist/composer as well as home chef, takes you on a virtual tour of her home country. In this interactive cooking and discussion class, Pegoraro will offer interesting stories and anecdotes about Italy, as well as tidbits about each composer's life, impact, musical innovations . . . and a hint of gossip. Tour Italy without leaving the classroom. While the food is cooking, Pegoraro will treat students to a sampling of her piano prowess and after the cooking is complete, students will enjoy a sampling of all the dishes. Please note: For returning students from fall 2015, recipes will be all new this semester.
Called "an artist of the highest caliber" by the NY Times, Cristiana Pegoraro has performed as a soloist and with orchestras in Lincoln Center, Carnegie Hall, the Sydney Opera House and other international venues. She has recorded 25 CDs and regularly presents master classes across the U.S. (including at the Juilliard School), Europe and the Middle East.
Tuesday, April 12 2016 7pm-9pm
Scarsdale, NY – Private home
$55.00
Info & Reservations: (914) 723-2325