Cristiana regularly presents master classes at The Juilliard School in New York and across the U.S., Canada, Europe, The Middle East, Asia and Australia.
Cristiana teaches at the Narnia Arts Academy International Summer Training Program in Narni (www.narniaartsacademy.com) during the Narnia Festival (www.narniafestival.com).
She also teaches at her private studios in Rome and New York.
For further information: contact@cristianapegoraro.com
---
Over the years, Cristiana has been presenting, in schools and universities of various countries, outreach programs and music appreciation programs for all ages.
CRISTIANA PEGORARO ON THE GREAT COMPOSERS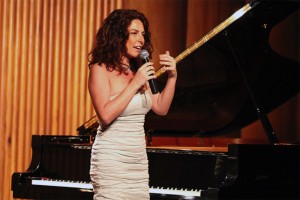 This series proposed by Cristiana Pegoraro represents a valuable opportunity to listen to an exciting repertoire in a new guise.
Cristiana Pegoraro brings her deep passion and enthusiasm for classical music to an intimate classroom setting that combines concert-worthy performances with discussion of greater music themes. Over the course of various engaging sessions, Cristiana pairs live piano with stimulating discussion and a hint of gossip of each composer's life and impact and the relationships which connects them.
Mozart – The impetuosity of genius
Beethoven – Beyond any limit
Schubert – The courage of a fragile hero
Chopin – The poet of the piano
Schumann – Visions and madness
Liszt – From virtuoso idol to life in a monastery
Brahms – The miracle of innovation within tradition Rossini – Furor and silence
Between Vienna and Paris – Encounters of the great romantic composers
Italian Inspiration – How one country inspired centuries of classical music
Pasión Latina – From Tango to Cuban Dances
An American Night – From Musical to Ragtime
Mozart&Salieri, Chopin&Liszt, Brahms&Wagner: Friends or Enemies?
---
CLASSICAL MUSIC IN JEANS
Classical music appreciation course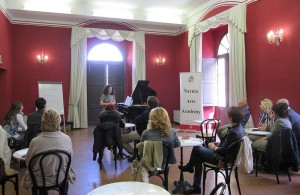 Classical music, an expression of the deepest feelings and voices of various historical periods, for centuries has accompanied the life of man.
Discovering and understanding it means to be able to appreciate it.
Appreciating it helps develop a healthy enrichment of our sensitive sphere.
Cristiana Pegoraro believes that there is great need to rediscover and deepen the true cultural values. That is why she chose to use an innovative approach to classical music, which is necessary to involve a wider audience and especially to encourage young people to get close to a heritage that should not intimidate, but, on the contrary, has the power to harmonize the inner growth of any human being.
That is why "Classical Music in Jeans" is born.
With the innovative proposal of "Classical Music in Jeans", internationally acclaimed pianist Cristiana Pegoraro will guide students in understanding the language and structure of classical music.
Objective: to gain the indispensable knowledge to thoroughly enjoy the classical repertoire.
The workshop will initially focus on the sensory perception of sound and subsequently on the concepts of melody, harmony and rhythm. The course will continue with the comprehension of the "grammar" of music and the analysis of musical forms and of orchestral texture. Student participation will make the learning process enjoyable and inspiring. Further, the live performances of pieces will be followed by discussions, which will favor an instinctive approach and an immediate opportunity to test the acquired competencies. The participants will be able to gain more sensibility and consolidate their comprehension of the structure of the language of classical music, which is necessary to fully enjoy this immense and underappreciated repertoire.
---
THE GAME OF MUSIC
Music education program for children.
Designed, edited and produced by Cristiana Pegoraro
Bringing children closer to classical music is one of the priorities of the Narnia Arts Academy, not only because music contributes significantly to their cognitive development as demonstrated by decades of studies, but also because it is a fundamental yet neglected part of our culture.
The aim of this initiative is to make the world and language of classical music natural to children, and to introduce them to the great composers and their most famous compositions.
It is about laying down the tracks to spark curiosity and sensitivity from which the young will gain advantage as they grow up.
"The Game of Music" was conceived for this purpose. Using a fun language accessible to children, the program explains classical music, its secrets, its magic, its ability to describe places and emotions. Part of the formula consists of actively involving children in games, interacting with actors impersonating the great composers of the past, and listening to live performances of classical masterpieces by Cristiana Pegoraro on the piano.
The notes of the greatest composers become an educational journey, a creative and exciting way to learn and appreciate, from an early age, the beauty and importance of classical music.