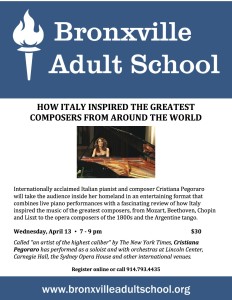 HOW ITALY INSPIRED THE GREATEST COMPOSERS FROM AROUND THE WORLD
internationally acclaimed Italian pianist and composer Cristiana Pegoraro will take the audience inside her homeland in a refreshing format that combines live piano performances and a stimulating look at the featured composers' lives and the impact that Italy had on them.
Over the course of two engaging sessions, "How Italy inspired Vivaldi, Mozart, Beethoven" and "How Italy inspired Chopin, Liszt, the opera composers of the '800 and the Argentinean tango" Cristiana will explore the music and enrich your soul.
Called "an artist of the highest caliber" by The New York Times, Cristiana Pegoraro has performed as a soloist and with orchestras in Lincoln Center, Carnegie Hall, the Sydney Opera House and other international venues. She has recorded 23 CDs and regularly presents master classes across the U.S. (including at the Juilliard School), Europe, Asia the Middle East and Australia.
Wednesday, April 13, 2016
The Bronxville School
Bronxville, NY
$30.00
Info and reservations: (914) 7934435
https://www.bronxvilleadultschool.org/CourseCatalog/ScheduleView.asp?ScheduleId=4246