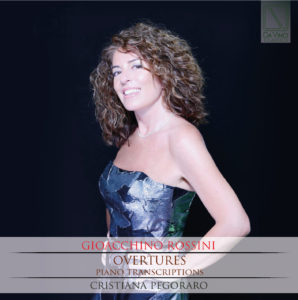 DA VINCI CLASSICS PRESENTS
GIOACCHINO ROSSINI: OVERTURES, Piano Transcriptions
Cristiana Pegoraro, piano
Label: Da Vinci Classics
Released: 2017
Total Time: 57:19
Price: $ 20.00 + S&H
Buy CD
Listen to the CD on Spotify at Spotify

01. Overture from Il Barbiere di Siviglia 6:34
02. Overture from Il signor Bruschino 4:47
03. Overture from L'italiana in Algeri 7:12
04. Overture from Demetrio e Polibio 5:35
05. Overture from La gazza ladra 8:45
06. Overture from La Cenerentola 7:32
07. Overture from La scala di seta 5:27
08. Overture from Semiramide 11:29

DA VINCI CLASSICS PRESENTS
GIOACCHINO ROSSINI: OVERTURES, Piano Transcriptions
Cristiana Pegoraro, piano
Cristiana Pegoraro latest CD release dedicated to original transcriptions of the most famous overtures by Gioacchino Rossini.
Prolific and daring composer, Gioacchino Rossini's music comes alive in an original project of pianist Cristiana Pegoraro, a CD which features for the first time some of the most virtuosic transcriptions inspired to the music of the great composer from Pesaro: In addition to Il Barbiere di Siviglia, L'italiana in Algeri, La gazza ladra, Cenerentola, Semiramide, in an original version by Pegoraro herself, for the very first time you will hear nineteenth-century transcriptions of a great admirer of Rossini, Maximilian Josef Leidesdorf (1784 – 1840), which include La scala di seta, Il Signor Bruschino and Demetrius and Polybius. A musical journey which covers 10 years of Opera production of one of the most imitated and admired composers in the history of music, both for the evocative power of his music and for the refined genius that runs through every page of his creations. The double vision 1800/1900 which emerges demonstrates how each of these melodies can be reconsidered to belong to every age.
Cristiana Pegoraro, pianist who has managed to combine a brilliant international career (from the United States to Asia, from Australia to Europe) with a humanitarian and civil commitment (testimonial Unicef, supporter of Amnesty International and Emergency), with this latest title fulfills a long-meditated project that gives new life to the genre of transcription, often wrongly stated as minor in the production of a composer, emphasizing its complete autonomy and artistic value.
Thanks to the constant commitment to the spread of Italian culture in the world, first woman to have played in the Gulf countries and regular guest of the Italian embassies worldwide, Cristiana Pegoraro has been invited by the Permanent Mission of Italy to the United Nations to hold a concert at the prestigious and legendary Carnegie Hall in New York next November 16 in celebration of the month of the Italian Presidency to the UN Security Council. Within the framework of the concert, also thanks to the recording of this CD, she will be given the recognition "Oltre La Breccia" established by the Associazione Nazionale Bersaglieri "for her efforts in going beyond limits and geographical boundaries and be a spokesperson of Italy's culture, art, and traditions in the world."