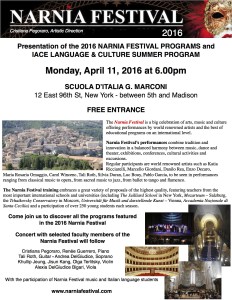 Monday, April 11, 2016 at 6:00pm
SCUOLA D'ITALIA G. MARCONI
12 East 96th Street – New York
FREE ENTRANCE
The Narnia Festival is a big celebration of arts, music and culture offering performances by world renowned artists and the best of educational programs on an international level.
Narnia Festival's performances combine tradition and innovation in a balanced harmony between music, dance and theater, exhibitions, conferences, cultural activities and excursions.
Regular participants are world renowned artists such as Katia Ricciarelli, Marcello Giordani, Danilo Rea, Enzo Decaro, Maria Rosaria Omaggio, Carol Wincenc, Tali Roth, Silvia Duran, Luc Bouy, Pablo Garcia, to be seen in performances ranging from classical music to opera, from sacred music to jazz, from ballet to tango and flamenco.
The Narnia Festival training embraces a great variety of proposals of the highest quality, featuring teachers from the most important international schools and universities (including The Juilliard School in New York, Mozarteum – Salzburg, the Tchaikovsky Conservatory in Moscow, Universität für Musik und darstellende Kunst – Vienna, Accademia Nazionale di Santa Cecilia) and a participation of over 250 young students each season.
Come join us to discover all the programs featured in the 2016 Narnia Festival!
Concert with selected faculty members of the Narnia Festival will follow

Cristiana Pegoraro, Renée Guerrero, Piano
Tali Roth, Guitar
Andrea DelGiudice, Soprano
Khullip Jeung, Jisun Kang, Olga Terlitsky, Violin
Alexia DelGiudice Bigari, Viola
With the participation of Narnia Festival music and Italian language students