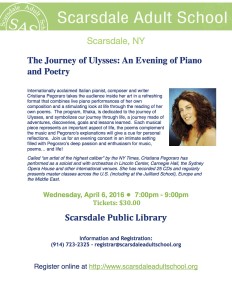 ITHAKA, il viaggio di Ulisse
Musica e poesie di Cristiana Pegoraro
Internationally acclaimed Italian pianist, composer and writer Cristiana Pegoraro takes the audience inside her art in a refreshing format that combines live piano performances of her own composition and a stimulating look at life through the reading of her own poems. The program, Ithaka, is dedicated to the journey of Ulysses, and symbolizes our journey through life, a journey made of adventures, discoveries, goals and lessons learned. Each musical piece represents an important aspect of life, the poems complement the music and Pegoraro's explanations will give a cue for personal reflections. Join us for an evening concert in an intimate setting filled with Pegoraro's deep passion and enthusiasm for music, poems… and life!
Called "an artist of the highest caliber" by the NY Times, Cristiana Pegoraro has performed as a soloist and with orchestras in Lincoln Center, Carnegie Hall, the Sydney Opera House and other international venues. She has recorded 25 CDs and regularly presents master classes across the U.S. (including at the Juilliard School), Europe and the Middle East.
MERCOLEDÌ 6 APRILE 2016
19:00 – 21:00
SCARSDALE PUBLIC LIBRARY
54 Olmsted Road
Scarsdale, NY
Biglietti: $30.00
Informazioni e Prenotazioni: (914) 723-2325
registrar@scarsdaleadultschool.org